This article was originally published on
24/7Mirror
People from all over the world travel to show off their best costumes at their favorite Comic Con conventions. San Diego is, of course, one of the most famous and well known, but these conventions bring in sci-fi and fantasy fans from all over the world and can be held anywhere. 2020 was a sad year for Comic Con though, as convention halls were shut down across the globe and everyone was forced to leave their unbelievable costumes in the closet in anticipation for the next convention. So, to get you in the spirit, we took a look back at the last few years of Comic Con and found the most realistic and insane looking costumes that turned everyone's heads. Brace yourself, because even though we've had a year to work on our next costumes, these ones are going to be tough to beat!
1. It's Batma'am
How many of you liked the 2019 superhero television series Batwoman? Even if you didn't like it, we're quite sure you would love this cosplay. It shows why Comic Con is so popular. This woman wanted to look her best and came up with a perfect outfit for the occasion.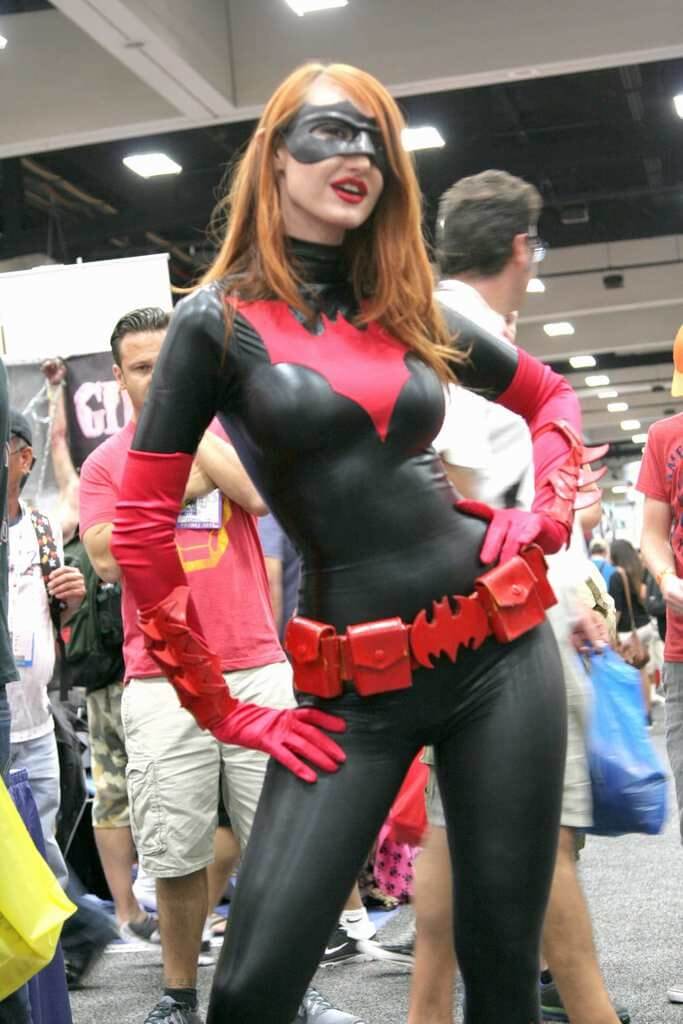 Now that Ruby Rose is no longer apart of the Batwoman series, do you think this lady should get the role? After all, it seems like she won't be taking any prisoners. 
2. It Must Have Been Fate That Brought Them Together
These two didn't even know each other before attending a Comic Con event. Both of them thought their cosplay outfit was "unique to them only." They clearly ignored the fact that you can always run into someone wearing the same costume. This is a well-known Comic Con fact.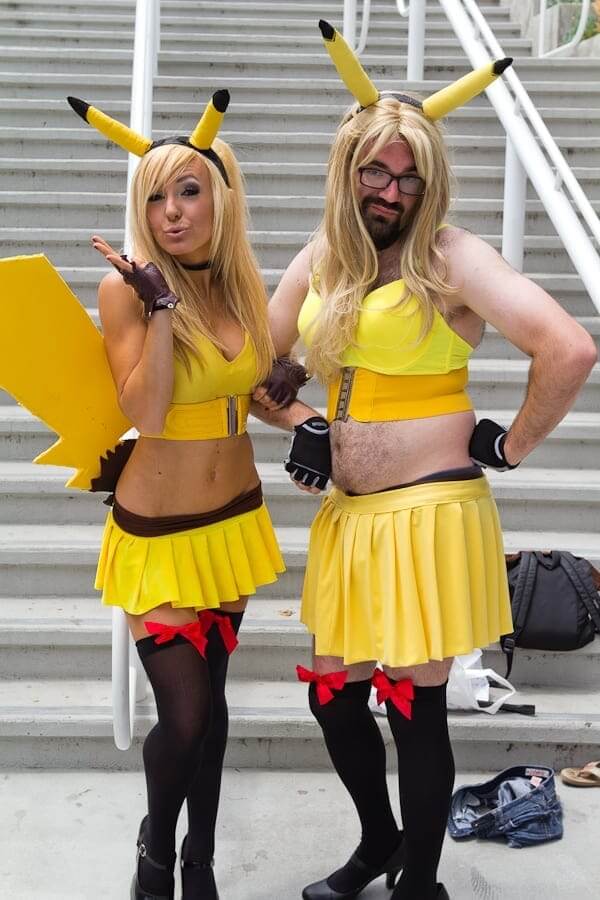 Instead of looking at each other with hate in their eyes, these two beautiful souls laughed it off and took a photo together. We hope that they exchanged information so that they can continue this trend of cracking everyone up with their identical costumes.
3. Teenage Mutant Ninja Pug
If you are a pet parent, you would agree with us that leaving your pet baby behind is not easy at all. If you ever think about leaving them to have some fun outside, it never works. They look into your eyes and make such an adorable face to melt your heart that you immediately change your mind.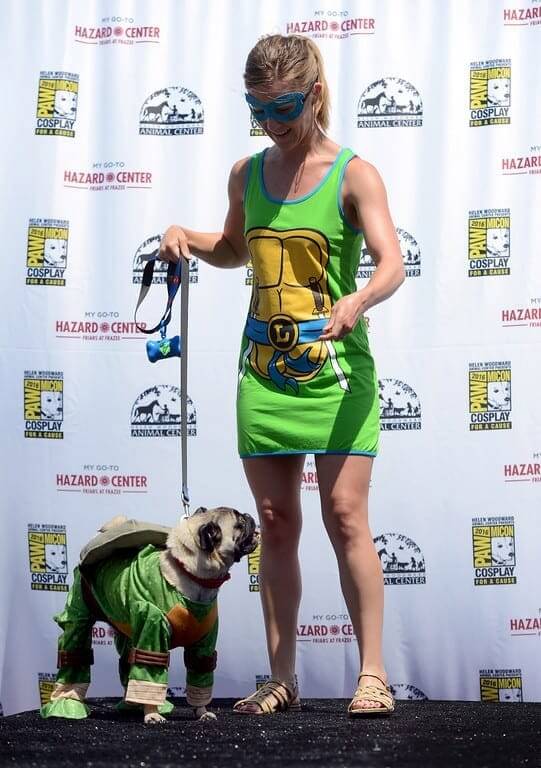 It seems like this lady wanted to have a memorable time at the Comic Con event. However, her adorable pug didn't want to stay at home. So, she did what any sane person would do in her situation: she turned him into a Teenage Mutant Ninja Pug.
4. What If Disney Princesses Were Also Hipsters?
We think that Disney is now a little behind the times in the representation of women. After all, nobody is going to walk around in a giant gown and high heels, that would take forever to put on and be ridiculously uncomfortable.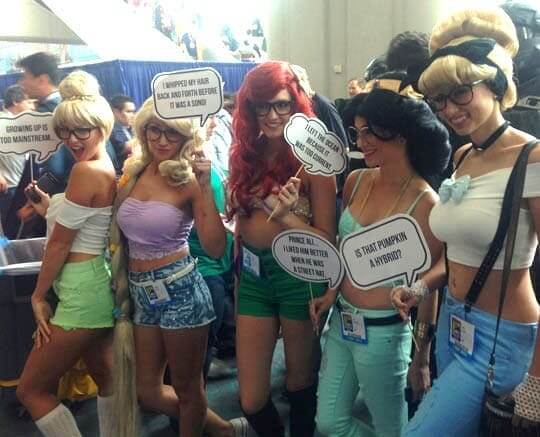 As Disney wasn't doing much about it, these girls were like, "Disney, let us show us how it's done." They transformed themselves into hipster princesses and arrived at the Comic Con with funny signs and a great hipster vibe.
5. "Luke, Chill Son!"
We know about Darth Vader's bad rep in the Star Wars world, but we think that he's just a person who really wants someone to love him. He realized that a black outfit wouldn't impress the ladies and others won't dig his negative vibe.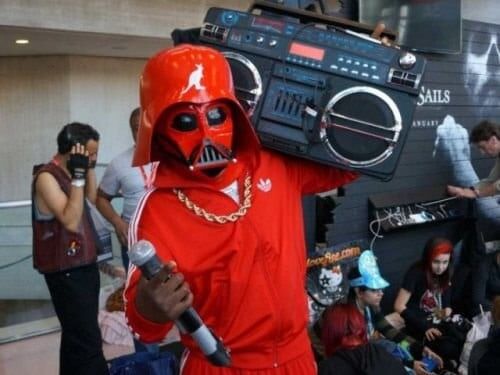 So, he transformed himself with a little costume change and a boom box. According to our authentic resources, he went to an after-party event where he was the life of the party.
6. For The Love of 1970s Movie
Have you watched the 1971 dystopian crime film A Clockwork Orange? It is considered a cult classic despite the fact that it is a strange movie. These ladies wanted to show off their love and pay homage to the droogs of the movie.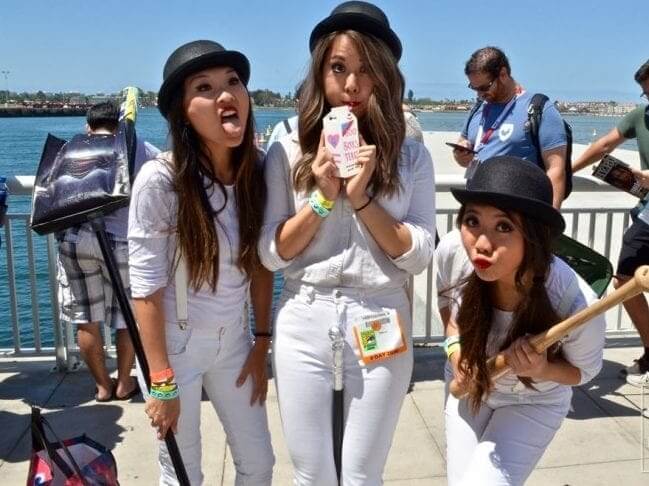 Although they would have looked misplaced on the movie set, they perfectly nailed it at the Comic Con event. With their white clothing, Moloko Plus, bowler hats, and baseball bats, they look almost as disturbed as the original droogs.
7. Tonight, We Go Nuts
Some unlucky superheroes don't get the recognition they truly deserve, but it is really great to see that Squirrel Girl (yes that is an actual MCU character) is getting some sort of recognition. Let's see when she gets her own show, but for now, this will make us happy.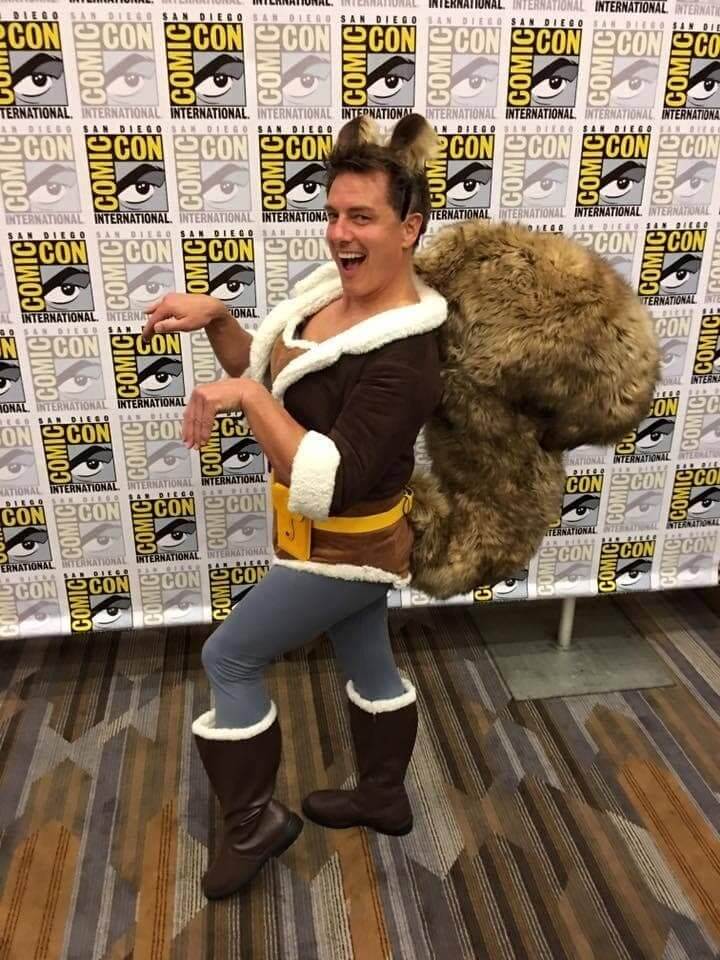 In this Comic Con event, actor John Barrowman decided to show up as Squirrel Girl and everyone loved it. You got to give credit to the ultimate entertainer who is pretty popular among the superhero and sci-fi crowd at Comic Con. Barrowman deserves our respect because carrying that bushy tail around for the whole day and still managing to have such a playful smile on his face.
8. When Princess Leia Grew a Beard
One of the most iconic characters of the Star Wars world is none other than beloved Princess Leia. You can see her iconic look with a white gown and side buns at every Comic Con event year after year. But no one wrote a rule book that says only a woman can dress up as Princess Leia, right?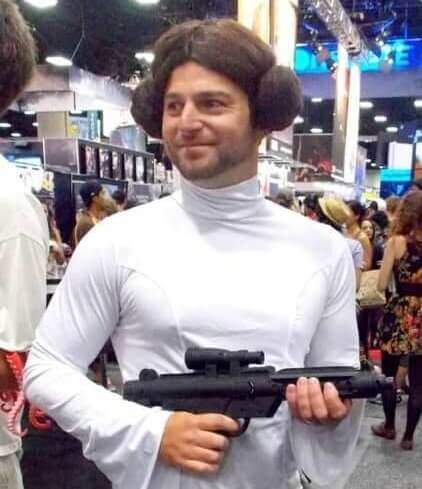 As now there is gender equality, this guy decided to ditch the gender stereotypes and dressed up as the Star Wars heroine with his beard. You go man!
9. Go Home Gingy, You're Drunk
This guy actually worked really hard on an authentic gingerbread costume made of actual gingerbread that he was planning on wearing around the convention! Can you imagine that? Him walking through the door causing the whole hall to be filled with the smell of freshly baked gingerbread? Our tummies are rumbling just thinking about it.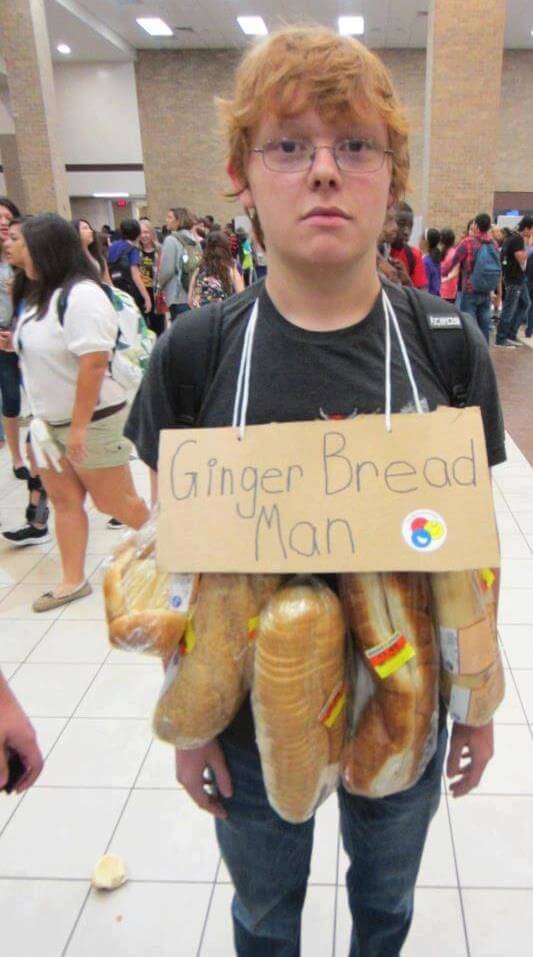 Unfortunately though, gingerbread doesn't make the best clothing and it fell apart almost immediately. This kid is pretty clever though, and instead decided to just run out and buy some bread attached to a cardboard sign. It looks like it didn't take a lot of effort, but in reality, this was a whole process that led to one amazing moment.
10. A Magical Mrs. Mushroom
The best thing about Comic Con is that participants show their love for comic books, movies, TV shows, and their favorite video games. Take an example of Super Mario Brothers, in which we're used to seeing Mario or Princess Peach.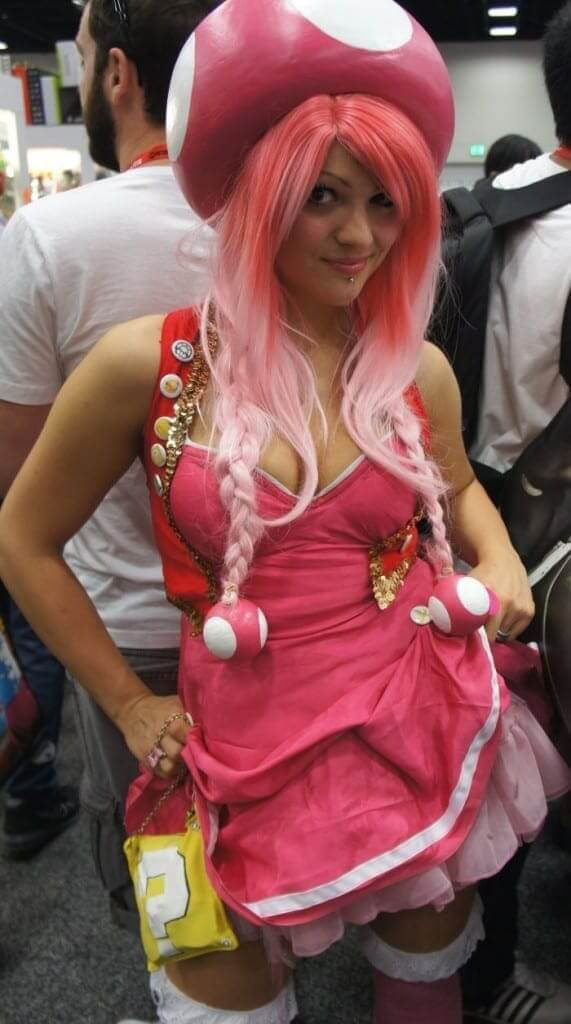 But here this lady took a new direction and dressed up as one of the game's mushrooms. We're not sure anyone saw her as the magic shroom, but everything about her from hair to dressing matches perfectly. That's called attention to detail and we absolutely love it.
11. No, No, No...I Go Comic Con
Fans of the hilarious animated comedy Family Guy will love this cosplay. Consuela De La Morrela, a Mexican cleaning maid and who speaks broken English, is one of those characters who continues to somehow fly under the radar. We love how she disobeys orders and treats the house as it were her own.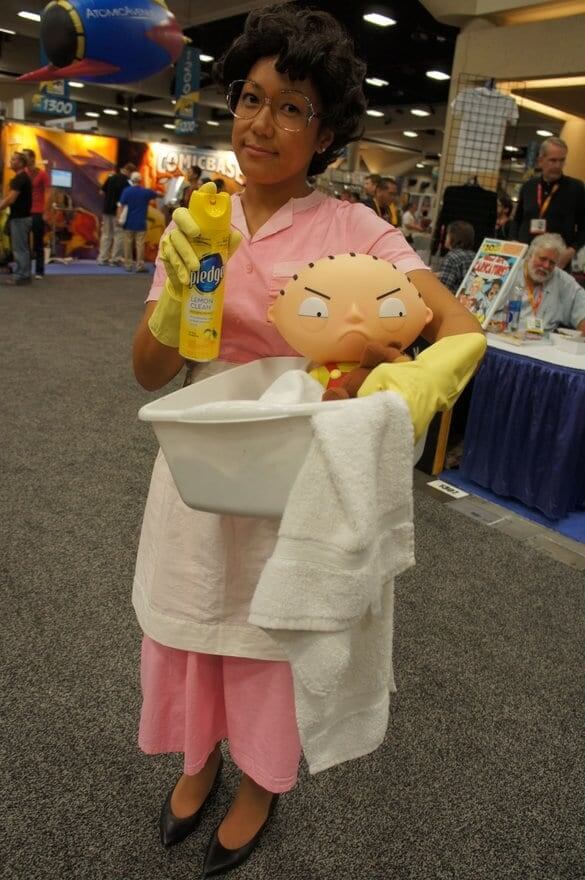 We're pretty sure Lois Griffin told Consuela to take care of Stewie Griffin and not let him wander off, but she decided to take him to the Comic Con event. Who else but Consuela (oh, that was for Glenn Quagmire)?
12. Pup Trooper
Although Stormtroopers are notorious because of their really poor aim, we think this one 'hit a jackpot' at the San Diego Comic Con. We know that therapy dogs can help significantly reduce pain, anxiety, and depression.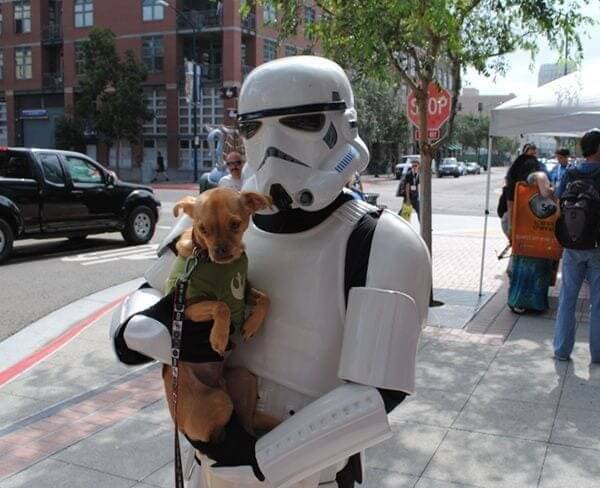 There is a possibility this Stromtropper was depressed because his aim sucked really bad. Hence the therapy puppy is there to help with his depression.
13. Looks Like Hulk Hates The Gym
Some people do everything at the gym, but skip leg day. Here, it seems like this low-budget Hulk never stepped into a gym in the first place.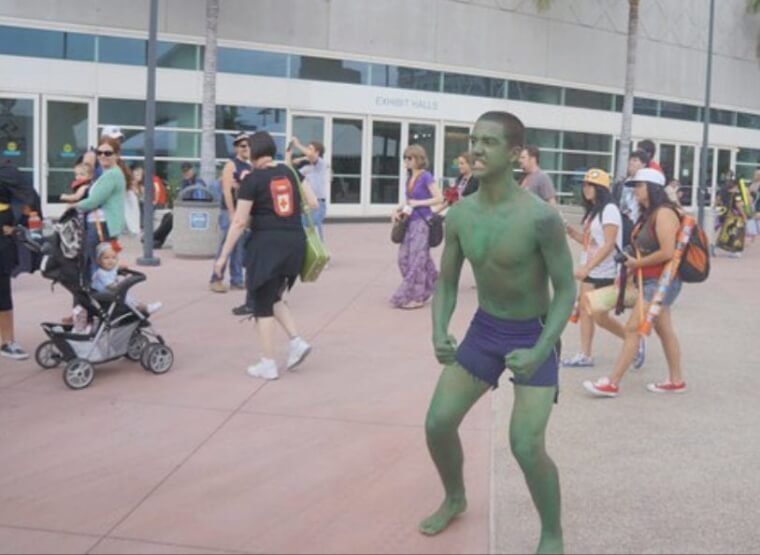 People at Comic Con try to turn themselves into superheroes for the day, but it seems like this man might need a little more work before he pulls off this outfit. You know why? It's because of the lack of protein and anger.
14. Quarantine Effect On Daenerys Targaryen
Just imagine if Game of Thrones' last season was released in 2020. Even though the finale was considered a massive disappointment to many fans, this woman decided to go as Daenerys Targaryen when attending Comic Con. From the smile on her face, we can assume that she's saying, "It wasn't me. It was the dragon."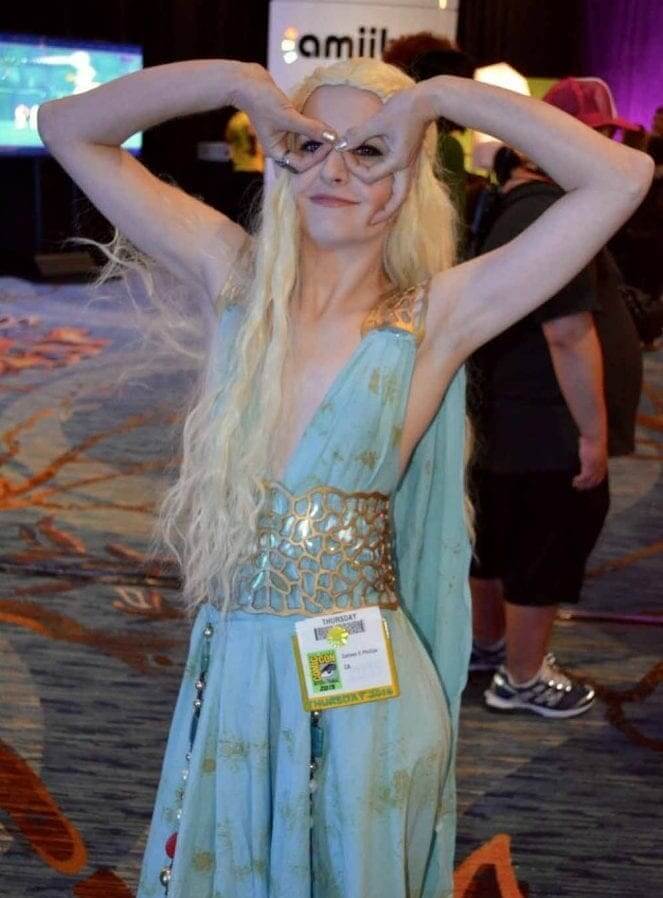 Or maybe she wants to tell everyone that, "You can't roast me. I'm the unburnt." Nevertheless, there's no denying the fact that Daenerys Targaryen is one of the most popular characters from the fantasy franchise. We really loved the Mother of Dragons.
15. Where's My Banana????
This banana Wolverine looks more like an angry minion, right? He looks like a person who only ate bananas for five years just to prepare himself for the big fight against the real Wolverine. Sure, he doesn't look like Hugh Jackman, we have a strong feeling that he might beat that handsome old boy.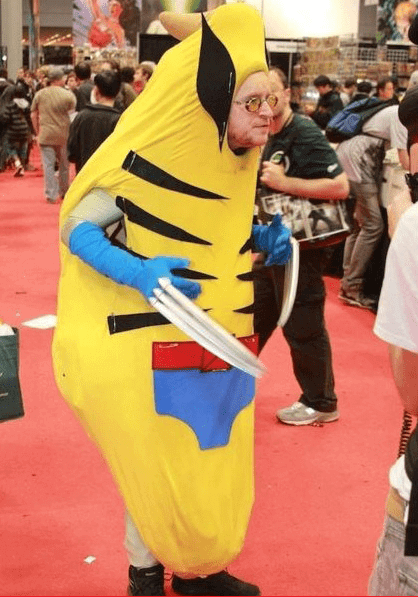 You must be wondering we might've gone mad to think this cross between a minion and a banana can beat the real Wolverine. Well, we always cheer for the 'underdog.'
16. Uh Oh, Someone Needs To Call Security!
If you like to watch movies and TV shows or play video games, you'll know that they don't hold back when it comes to showing weapons of all kinds. From the swords to the most advanced weapons, they love to use weapons to kill enemies. This cosplayer wanted to be true to her character at the Comic Con.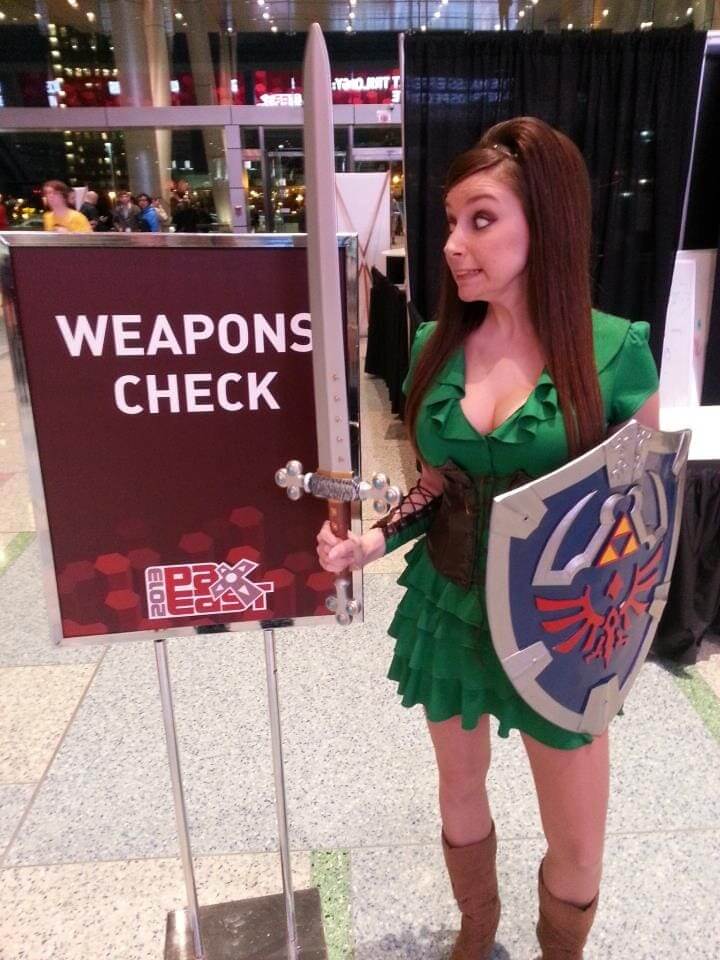 Your cosplay of Thor is incomplete without a hammer or no one will be able to recognize your cosplay of Captain America without the shield. That's why you need the swords, the shield, and other fake weapons to complete your outfit. That's exactly what this Link from The Legend of Zelda did and we love it.
17. Tony Bark
Iron Man was such a big hit that everyone loved. We didn't know that dogs were also involved in Comic Con stuff. But hey, we're not complaining at all.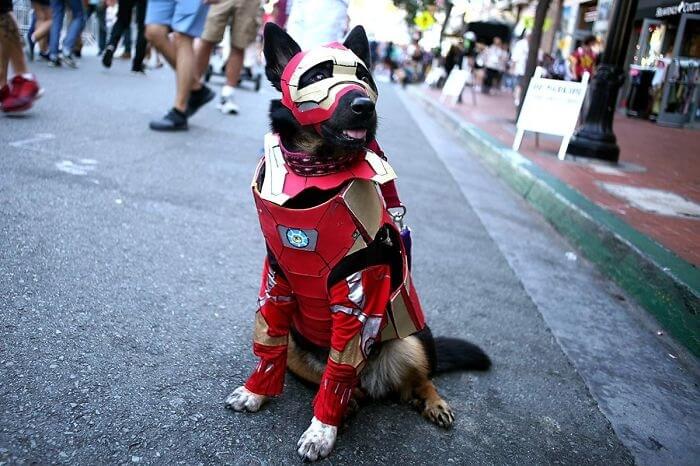 He looks like the doggo of Tony Stark. Who knows, maybe he wanted to become a superhero of the doggo world. On second guess, maybe he is not that interested in saving the world and just wants to hear "who is a good boy?" What do you think about it?
18. Call Her Spider-Ma'am
There are many popular ways of dressing up for Comic Con as people try to pay homage to their favorite characters in the best ways and sometimes, with unexpected twists as well. People can be super creative at Comic Con.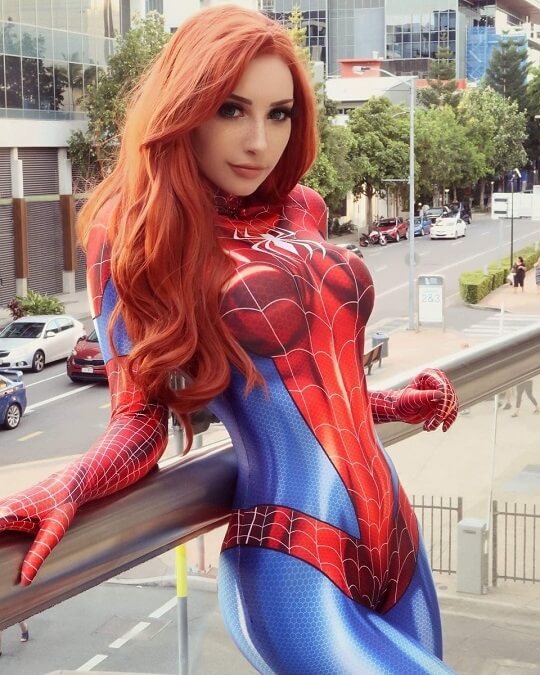 This woman, who seems like a huge fan of Spiderman, tried to put Spiderman and Marry Jane Watson together into one attractive look. We have to say that most of you would want to be saved by her instead of the actual Spiderman. We're pretty sure even Peter Parker won't mind it at all.
19. Ah, Nostalgia
How many of you remember the epic show Blue's Clues that premiered on Nick Jr. in 1996? This cosplay can take you back to your childhood days.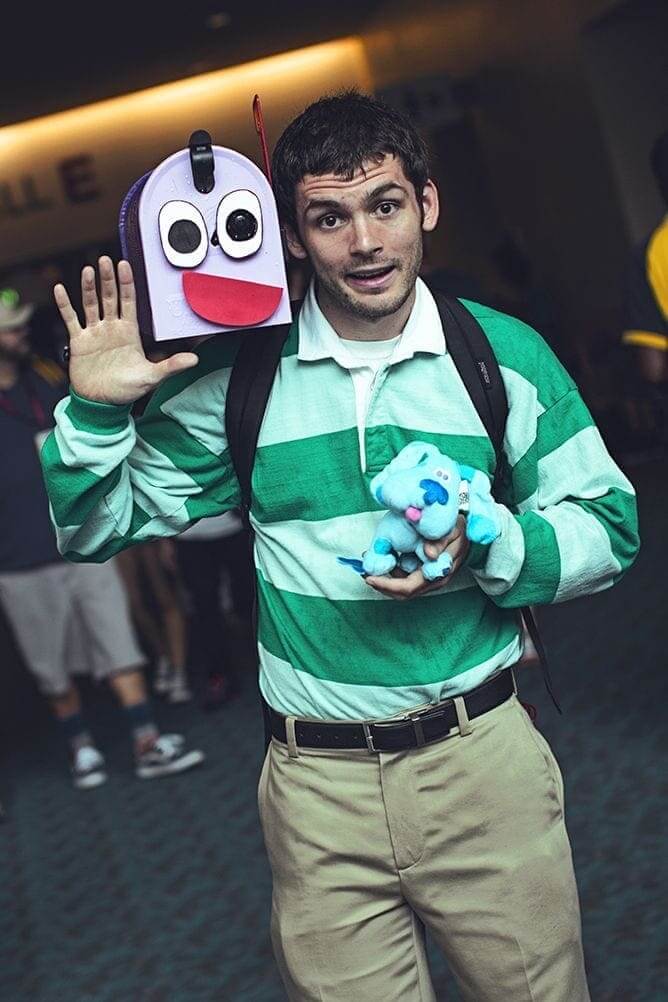 We have to give credit to this guy for giving the Comic Con a nostalgic touch. Everything from his clothes to the mailbox is spot on. That's real dedication.
20. "Say My Name"
Any fans of Breaking Bad here? If you are then all we have to say is that you're one awesome person.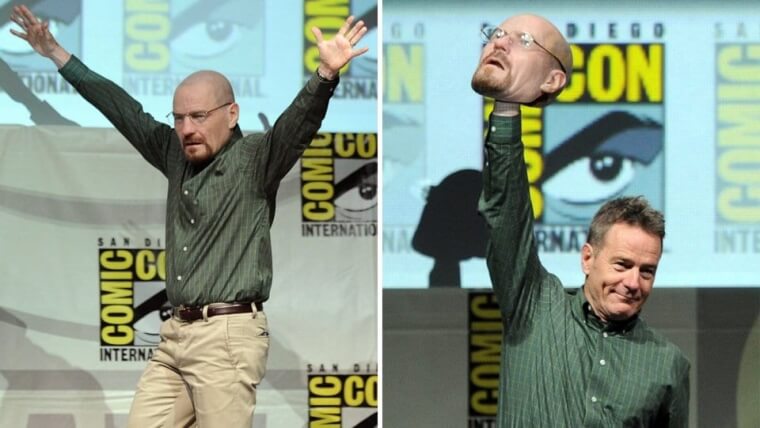 People wear masks of their favorite characters at Comic Con events, but who knew it would be Bryan Cranston behind the mask of Walter White, aka Heisenberg?
21. Lightning Does Not Strike Twice. Wrong!!!
There's a new lightning-fast superhero that is giving some serious competition to The Flash. This gorgeous woman wanted to cause a furor amongst the attendees of the San Diego Comic Con.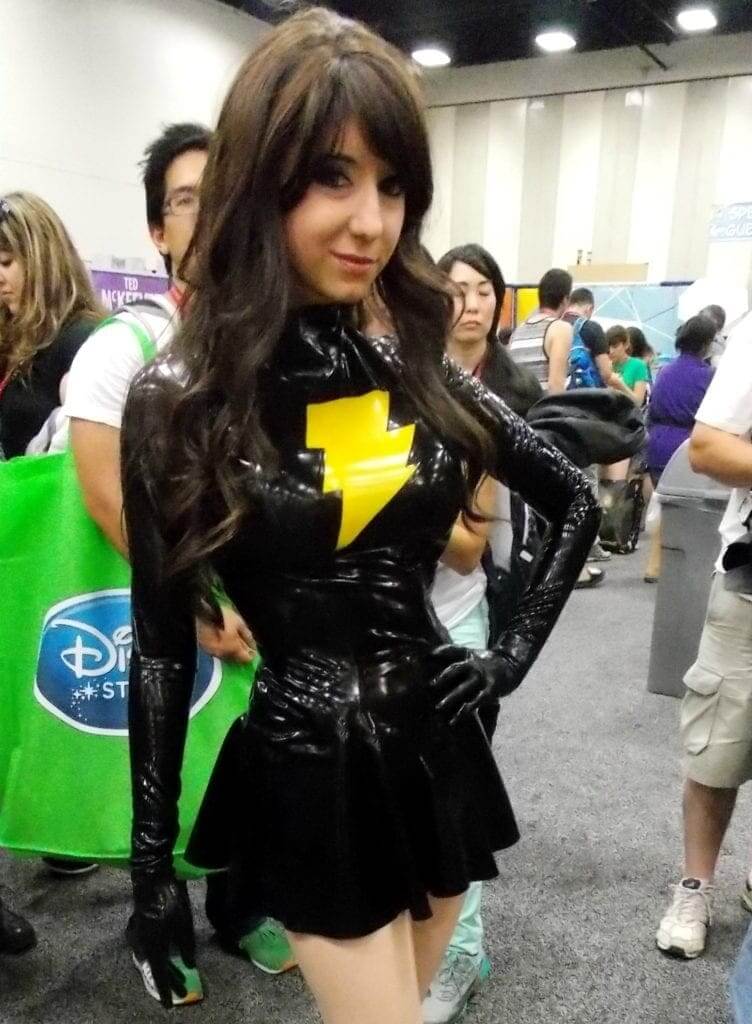 Maybe she wanted to prove to the people at the event that she was way more dedicated than any of them. Her impressive outfit surely caught everyone by surprise.
22. Princess Fiona Is Handling Business
We can bet almost everyone loves Shrek, and there is no doubt Princess Fiona was one of the best things about the movie. She found her true love in the form of Shrek.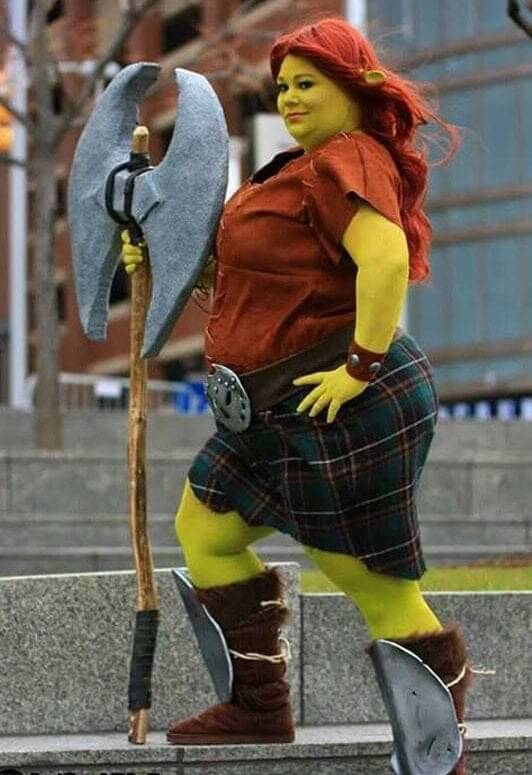 This young woman made a great decision to do up Fiona as a powerful, Scottish warrior queen and we absolutely love it. She perfectly achieved the look that helped her stun people at the Comic Con.
23. Introducing Chewbacca's Angels
If you liked Chewbacca (Wookiee warrior, smuggler, mechanic, pilot, and resistance fighter), then we're 1000% percent sure you will love these three ladies. Although they don't look like any Wookies we're seen before, one thing we know for sure is that no one would want to mess with them.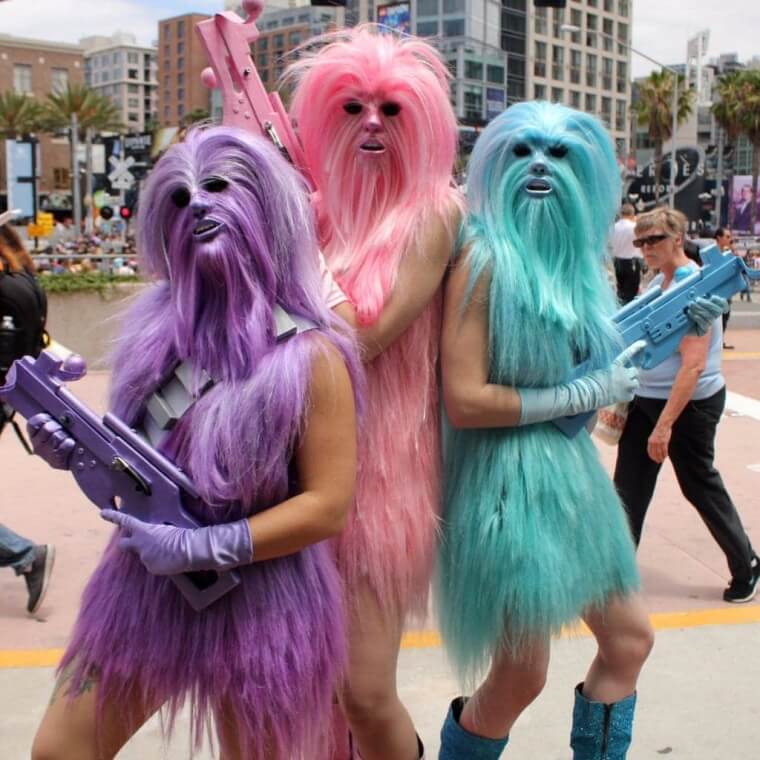 It is amazing how you can make any character so fun by adding a little originality. We just know one thing, that these ladies should win some sort of outfit choice award because the more you look at them, the more it gets weirder. They have hypnotized humans with their outfits, so just imagine how Wookiee men would react after seeing them.
24. 100 Percent Commitment Level
Although Moana is not a comic book, it is still animated and that's why it has a right to be at the Comic Con. If you disagree, then you better tell these fans who went out of the way to make these amazing costumes.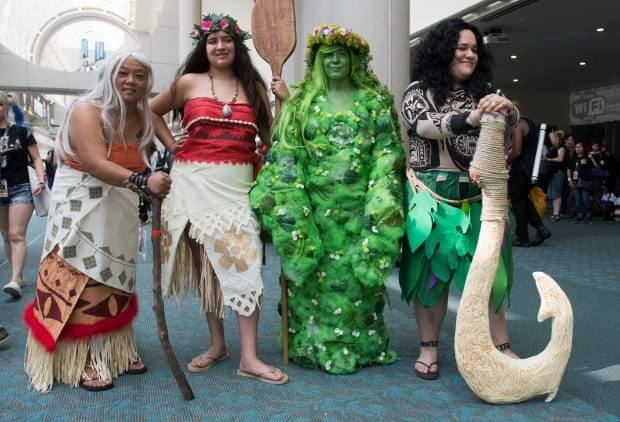 Their costumes of the main characters in Moana look so legit. Moreover, the teamwork and perfect execution has really impressed us. We feel that Moana and Maui look super impressive, but huge respect for the woman who dressed up as Te Fiti.
25. Gal Gadot Is That You?
Israeli actress Gal Gadot is Wonder Woman on-screen and in real life and she did complete justice to the role played by Lynda Carter in the classic 1970s TV series. One thing we know for sure that whoever plays the role of Wonder Woman is tough, gorgeous, and fierce. But that is not the case here as some dude decided to change the perspective of the people with a hilarious costume.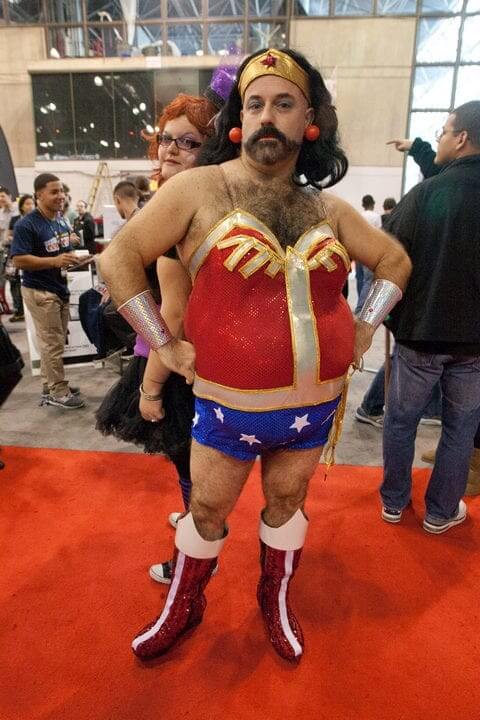 This 'Wonder Man' didn't even try to shave his chest to add some realism to the outfit, and no one really seemed to mind as well. It woundn't be wrong to say that everyone loved it.
26. Perfect Comic-Con Mashup Doesn't Exi...
To be honest, there is no way to describe whatever this mashup is called. One thing we know for sure that some super creative people attend Comic Con. It seems like this guy was confused and couldn't decide whether to dress up Thor or Ronald McDonald. In the end, he merged both of them and came up with this unique costume that is pretty cool (and a bit creepy).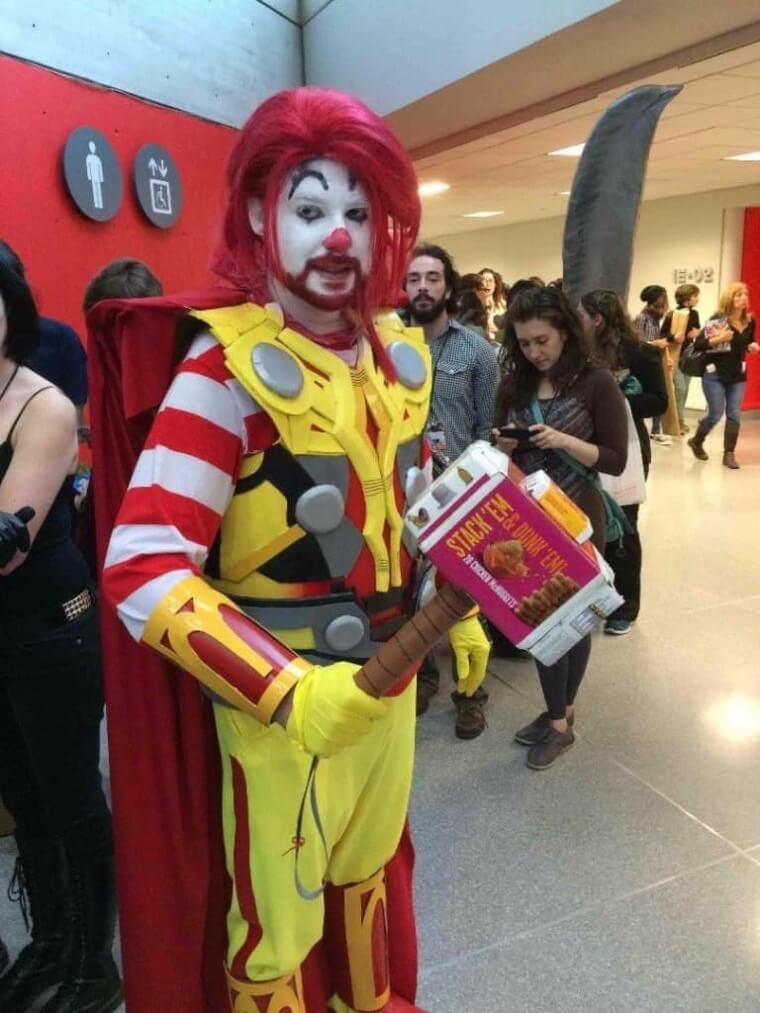 If you're scared of clowns, maybe you should better not stare at this photo for more than 5 seconds. After all, you don't want this creepy image to give you nightmares.
27. Not a Fairytale Story
Is it just us, or could there be a joke out there in which Ariel, Tinker Bell, and Captain Jack Sparrow walk into a Comic Con event? If there is, we really want to hear it. After all, any joke involving Captain Jack Sparrow has to be super crazy.
We don't know why Ariel is wearing a school uniform, but it looks like Captain Jack Sparrow and Tinker Bell came prepared for this event.
28. Cute Han Solo Adventures
This photo is the reason why we love Comic Con. You can be any character you want to be. It is always fun to swap genders at the Comic-Con and this couple did it in a hilarious way that everyone admired. They cleverly swapped genders to create a Han and Leia couple.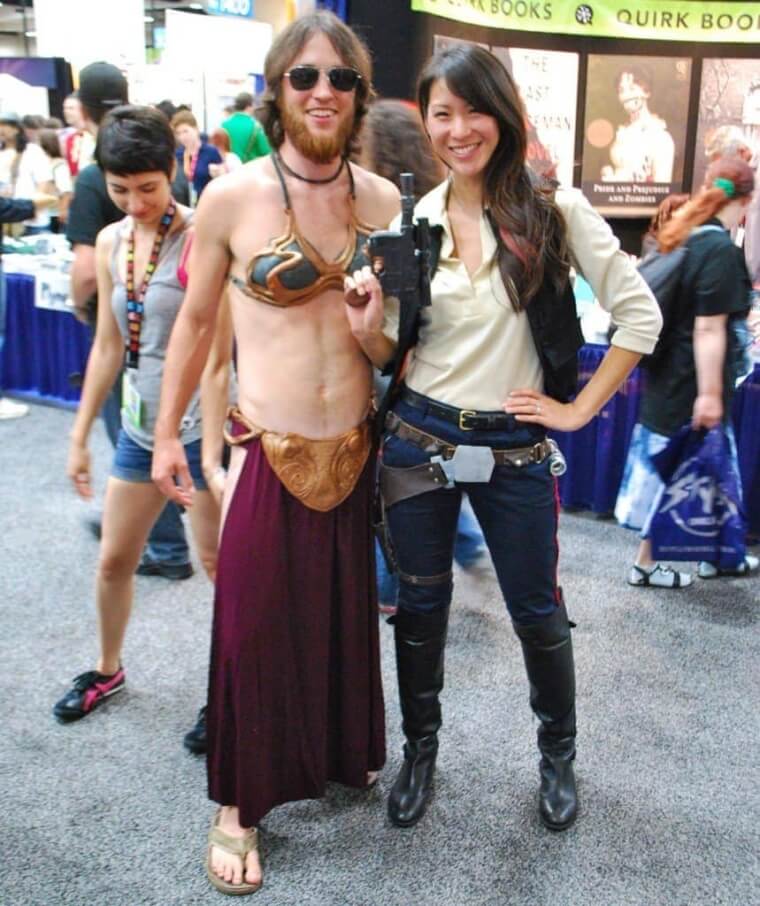 If you're a guy who ever wanted to dress up as Princess Leia, you can take some pointers from the guy in this photo. If you're a woman who felt like dressing up as Han Solo, you got everything you need.
29. A Superhero We Want
We don't know about you but one thing we know for sure that this is a superhero we really want. Take Green Arrow at any given time and just give this Bulldog Arrow to us. His costume of Green Arrow clearly shows that he was born to be a superhero. We don't care if you agree with us. We just know that he looks way more badass than the crime-fighting vigilante hero Oliver Queen.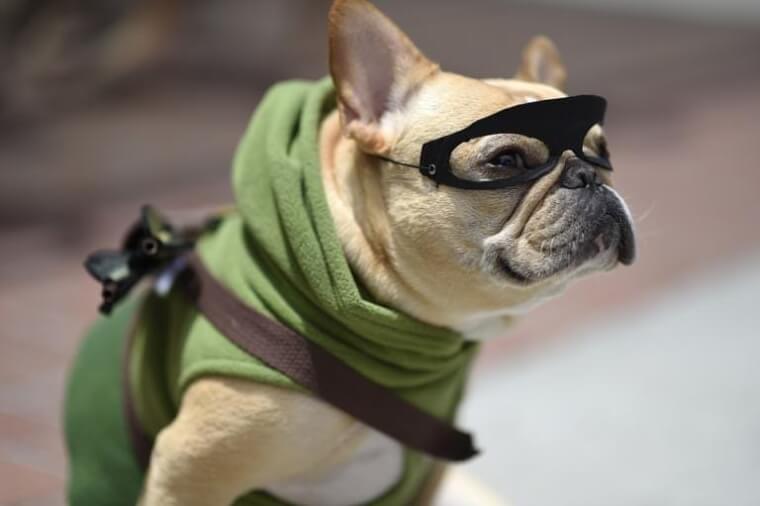 Just look at him all ready to save the people with a determined look on this face. He looks like all prepared to save his bulldog girlfriend from the bad guys (doggos). Although humans try to be creative with their outfits at the Comic Con, we think this doggo simply stole the show.
30. Two-Face? Is That You?
Even after the release of Batman v Superman: Dawn of Justice, the world can never get enough of the idea of the Dark Knight fighting the Man of Steel. Whether you liked the movie or not, it was pretty exciting to see two of the biggest superheroes going toe to toe against each other.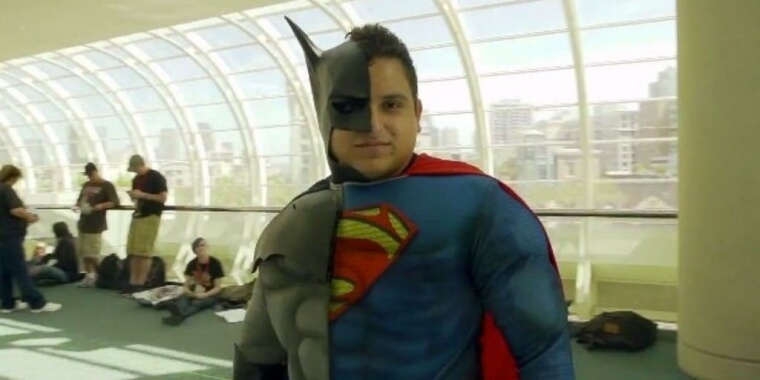 It seems like this person really loved the movie and decided to take the mashup to new heights with a clever combination of Batman and Superman costume. Maybe he just couldn't decide which DC superhero to dress up and finally went with both of them. By the way, both costumes look pretty great.
31. The Fun Side of Iron Man
It seems like Iron Man has another side that we didn't see. Aside from saving ungrateful humans from highly intelligent robots and invading alien forces, he likes to play the guitar to blow off steam. Maybe that's why he attended Comic Con to rock out with his guitar. We really want to hear him play.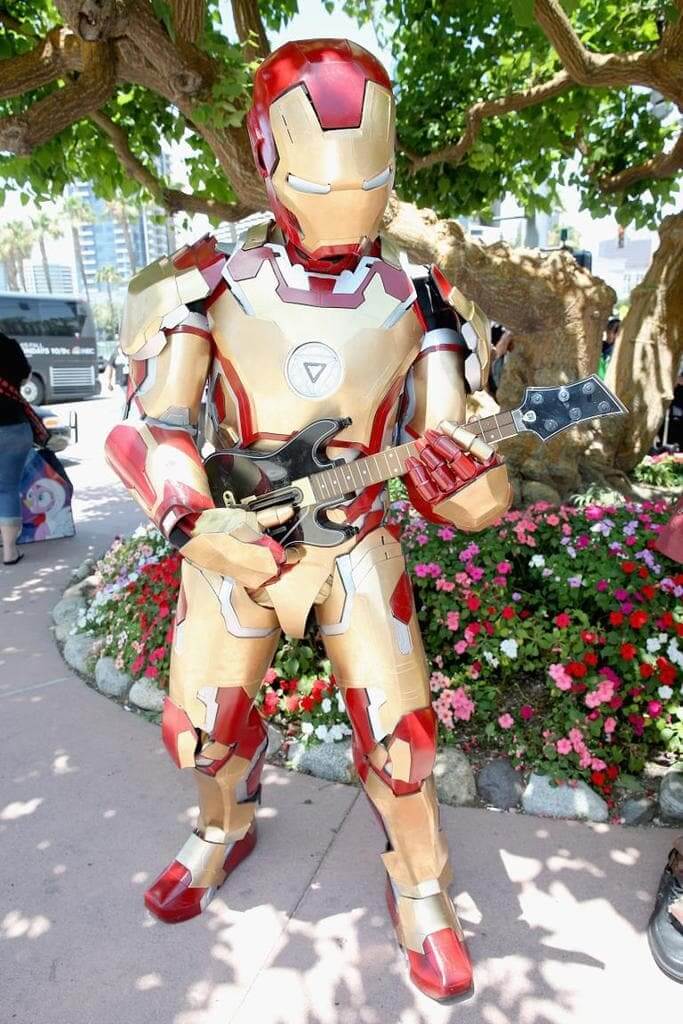 If people knew about his passion for music, maybe they might have convinced him into making a rock band with Captain America (manager), the Hulk (as the drummer), Black Widow (as a female singer), and Thor (on vocals). Oh boy, it would have been so fun, right?
32. Thankfully Nobody Has Any Pet Allergies
People who grew up watching cartoons in the '90s may remember the show CatDog. It was an American animated television series of conjoined siblings - one a dog, the other a cat - and how they dealt with the challenges of being constantly connected.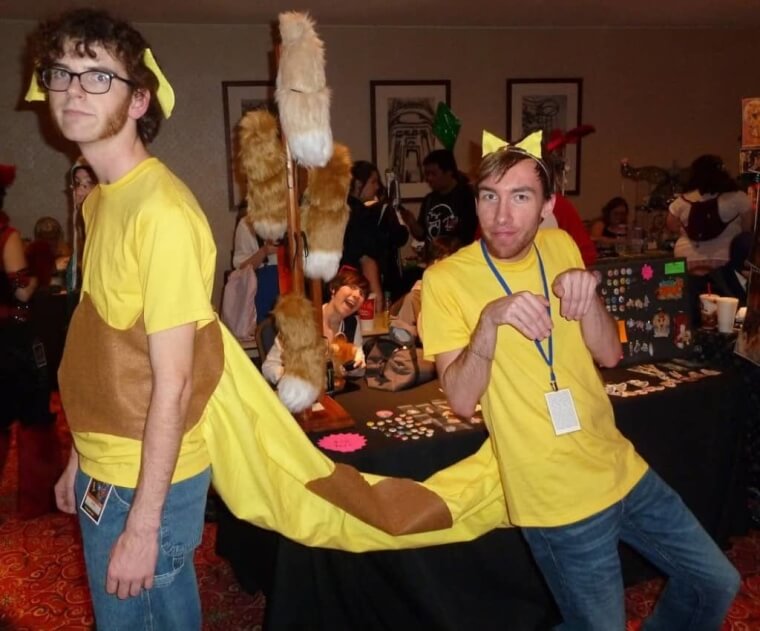 These two guys used their childhood inspiration to come up with an amazing cosplay. We don't know if they are real-life brothers or not, but they really did a good job here.
33. Where's Baby Groot?
There is absolutely no denying the fact that Groot is one of the most loveable characters in the Guardians of the Galaxy series. With his limited vocabulary and loyalty, he can melt anyone's heart. And do we really have to say anything about baby Groot (that little cutie pie)?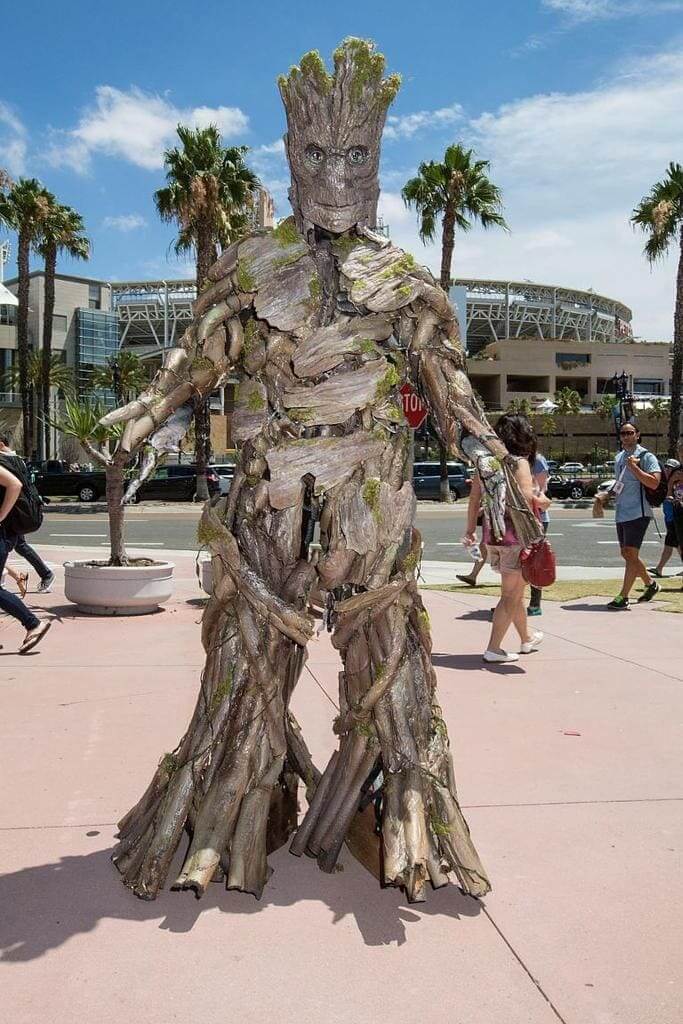 Considering that the Groot in the films was totally animated, you can understand how exciting anyone would be to come across this fantastic cosplay in real life.
34. Stormtrooper Dead In A Pool
Who knew that it was Deadpool's biggest dream to become a Stormtrooper and miss every target? It seems like Deadpool really doesn't want to become a member of the X-Men and that's why he is disguising himself to get a place in the Star Wars-Marvel crossover.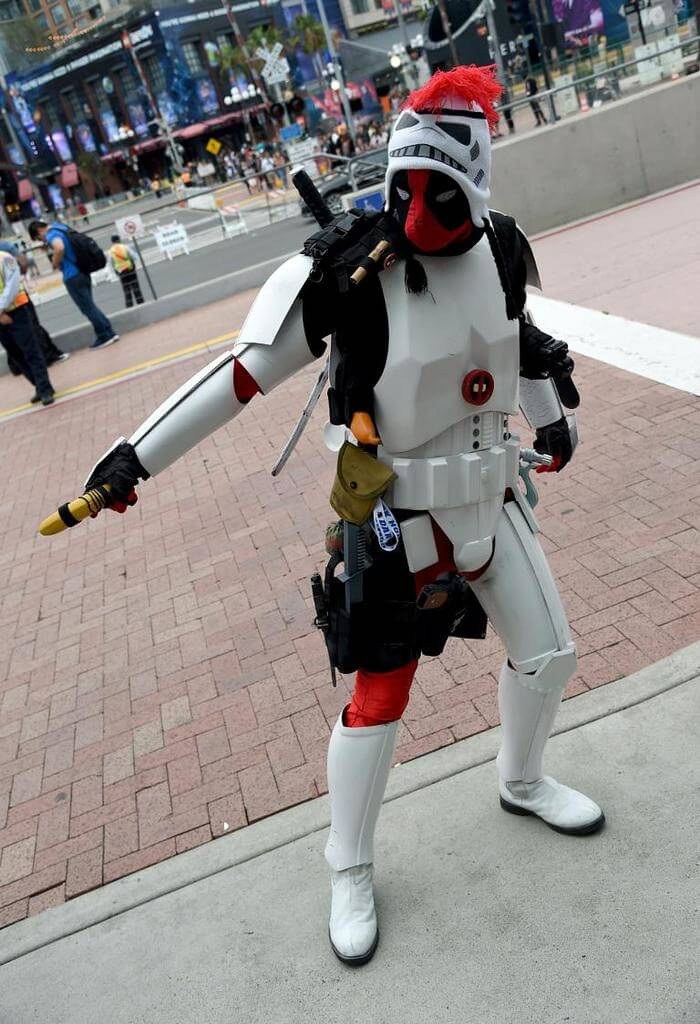 If it happens then it could be fun, right? Either way, we know one thing for sure that Deadpool is rocking this costume and there is absolutely no reason not to love it.
35. "So Many Choices, Can't Make a Decision"
This is a perfect example of how a 5-year old kid would do if he can't decide which candy to eat first. The kid will just put all the candies in his mouth and make a big mess. Here, an adult made a mess and it is quite hilarious.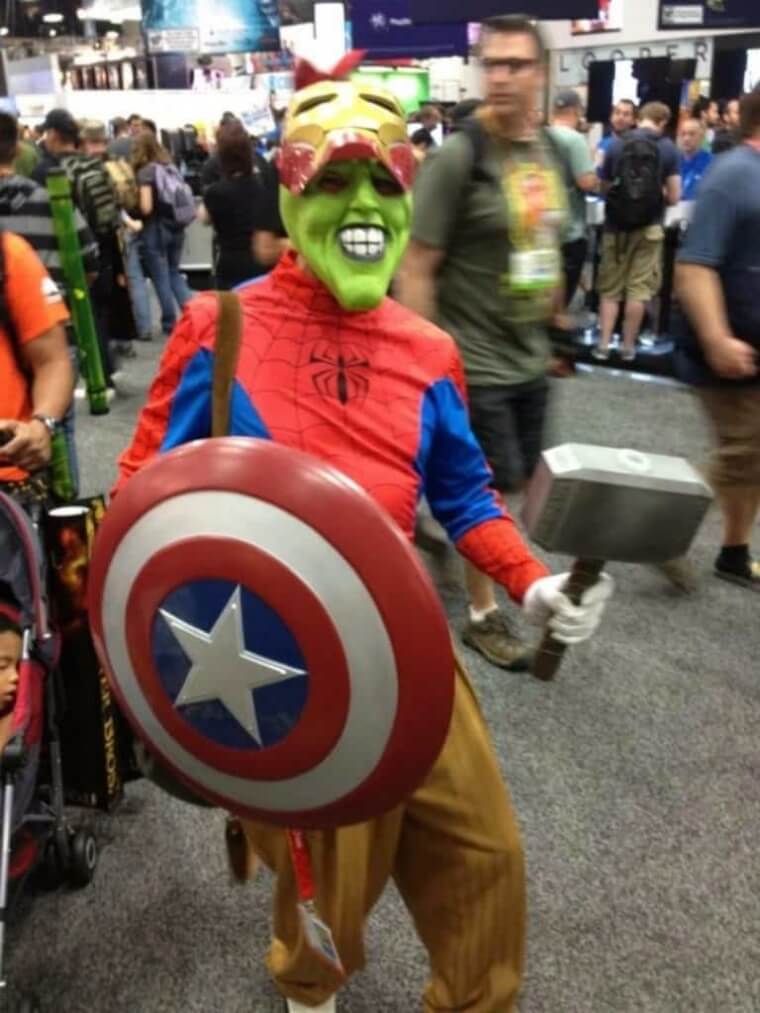 This person simply couldn't choose which Marvel hero to dress up because Comic Con only comes once a year. Instead of making a 'life-changing decision,' he went ahead and dressed up as all of them.
36. Extremely Low-Budget Iron Man
It seems like this is what happens when Iron Man runs out of iron. He most probably couldn't get his hands on any metal and decided to improvise. Maybe he didn't know about the Comic Con event and came up with this costume at the very last minute. We can make assumptions all day long.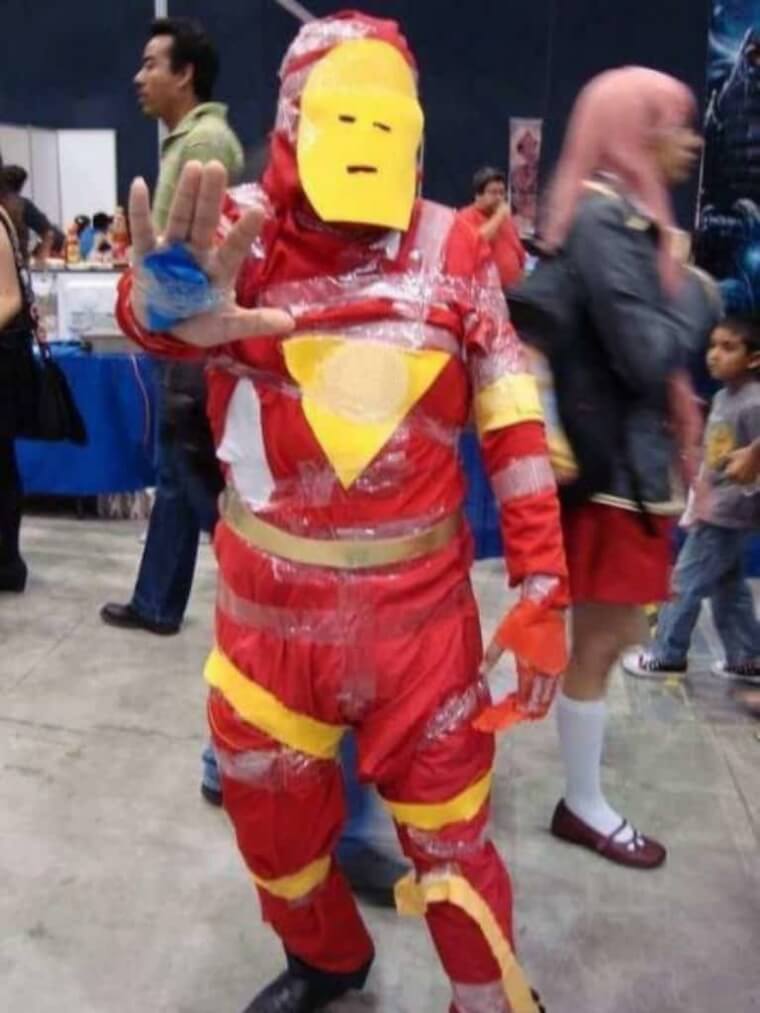 With the use of tape and cardboard, anyone can become his own version of Iron Man. Some people may not have recognized him as the original Iron Man, but we have to give him some points for doing the best he could on such short notice.
37. Nothing Looks 'Strange' Here
Fans of Stranger Things wasted absolutely no time in inhabiting its characters after the third season came out and we can see why. These two dressed as Steve and Robin (who work at Scoops Ahoy ice cream parlor) and what's not to love about their outfits?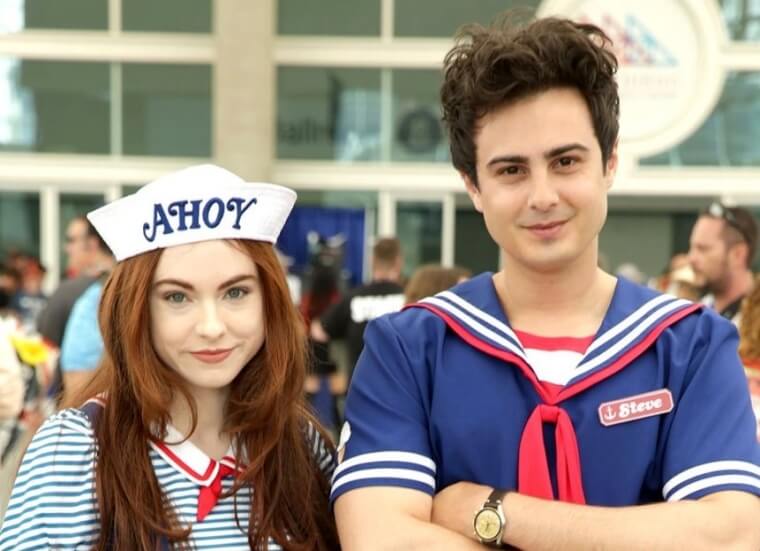 If you are not a fan of Stranger Things, or haven't watched it yet, all we have to say is that give it another shot. We're pretty sure you will fall in love with the show. Once you watch it, please let us know.
38. Flash Marathon
Flash is, without any doubt, one of those timeless characters that appeals to kids and adults. After all, who doesn't want to run as fast as lightning? If you're wondering why this group of men dressed up as the Flash is running, you will be surprised to know that they are running a marathon. Nah, kidding.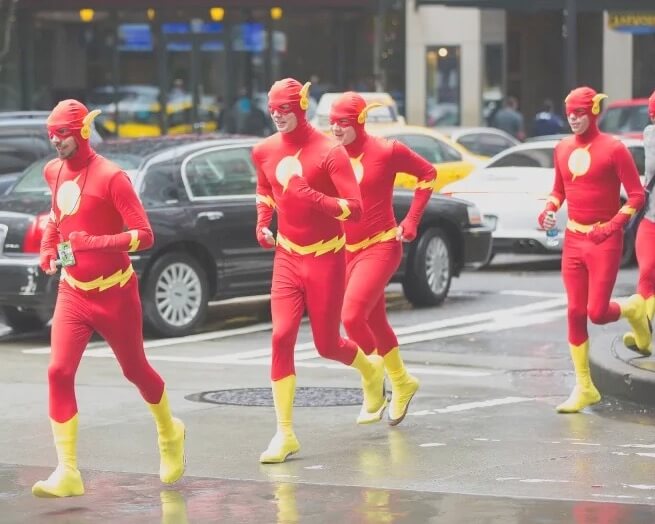 They are just trying to run in hopes of getting the superpower of lightning speed that the Flash possesses. We are sure this is not how they will get the superpower, but it probably helps them get into character.
39. "Uh, No Stay"
Diehard fans of Rick and Morty know the episode in which Rick and Morty go in another dimension and there Morty meets a super inappropriate jellybean.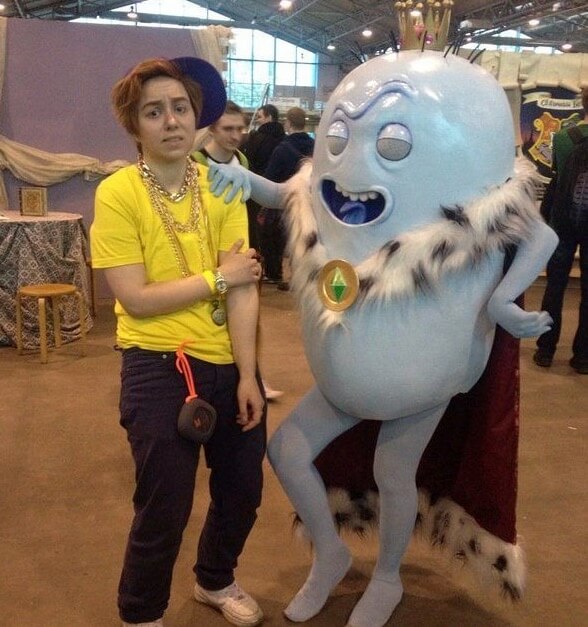 Well, the experience of Morty with King Jellybean was more traumatic than those who watched the Twilight series (oops). We have to say that these two really look good with their costumes and their facial expressions are spot on.
40. 'Risk' of Facing Too Many Ricks
It is no surprise that Rick and Morty's increasing popularity means more and more fans try to be creative with it. As the show is a lot about alternate dimensions, there can be infinite Rick and Morty versions.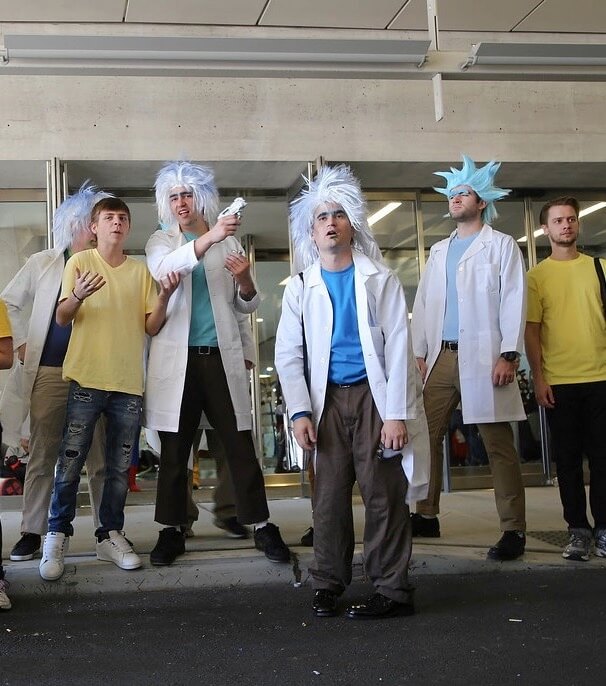 In fact, you can see many episodes in which multiple Ricks and Mortys interact with one another. That's why we loved this ensemble costume.
41. Just Chillin' Before Killing
We all know how chill Deadpool is, right? He is more chill than a chilled coke (okay we went a bit too far). But you got what we're trying to say here, right?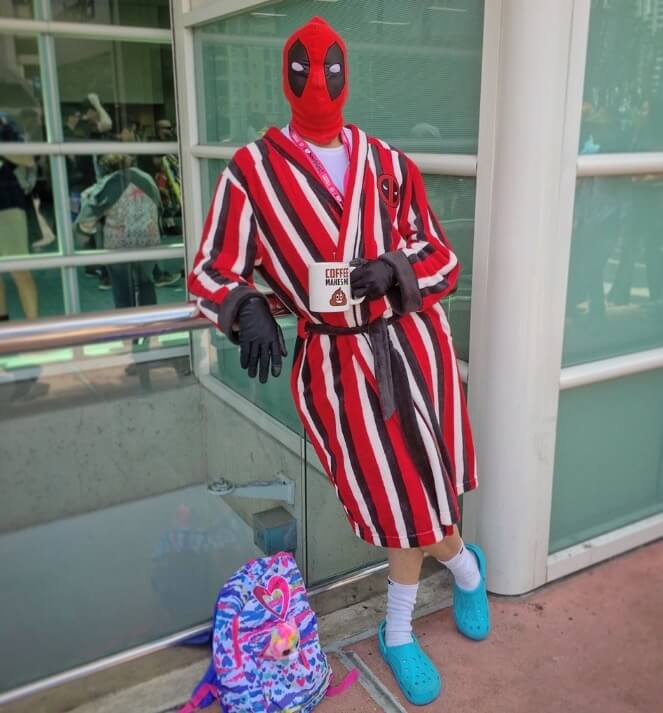 This costume is hilarious because it perfectly shows how Deadpool could chill in his bathrobe and crocs. And to top it off, there is also a little backpack.
42. Yes, Just YES!!!
After looking at this outfit, all we have to say is that "You are rocking that look. You go warrior!" It is so powerful and creative.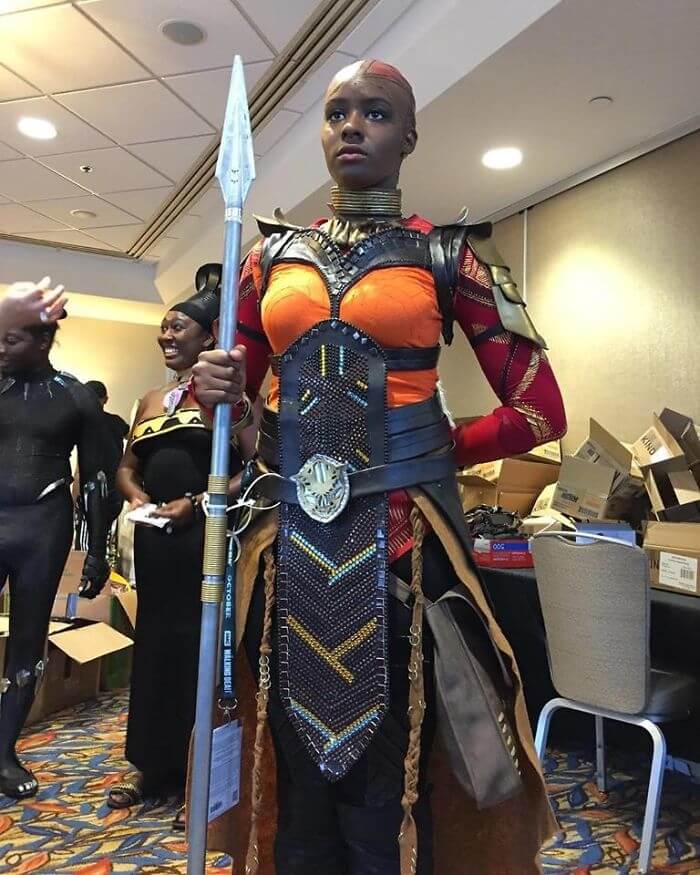 Although looking at this cosplay also made us feel sad because of Chadwick Boseman (RIP you great human being).
43. DragPool
That's so Deadpool. If you ever thought about how Deadpool would look as a drag queen, here you have it. And just look at him wearing those heels.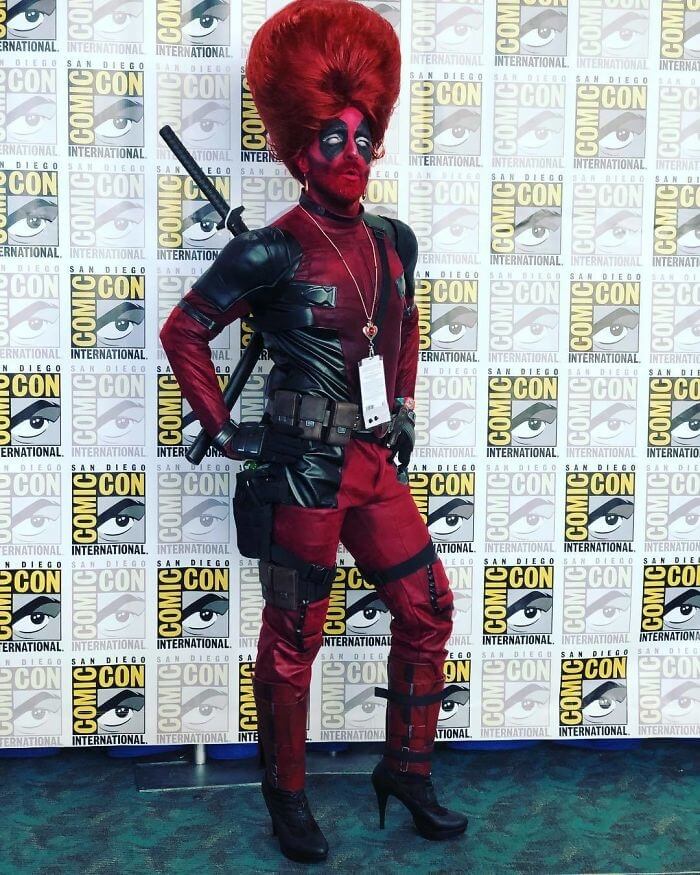 Only Deadpool can do this and we absolutely love it. We're pretty sure even the real Deadpool would approve it.
44. Mad Hatter Love
Who doesn't love Alice in Wonderland, right? All we have to say is that this is some talent and dedication! Great workmanship on the electric vehicle too!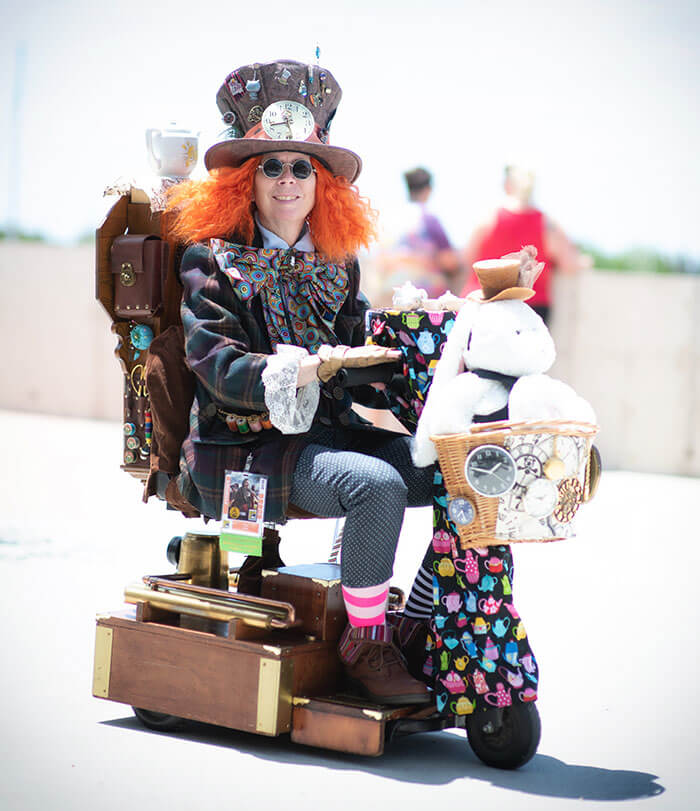 We love the steampunk scooter! Thank you for proving that those of us with disabilities can do cosplay, too!
45. Money Well Spent
Mystique is one of the most misunderstood and beloved characters in the X-Man universe. Here we see a woman who took a painstaking effort to create a Mystique costume that shows her transforming into a US Army soldier.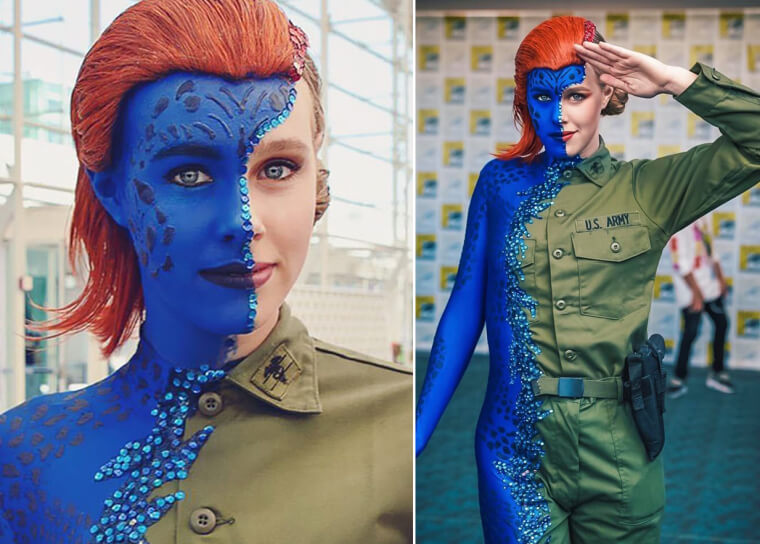 You will find it hard to believe that all of it was designed and created by a talented 14 years old girl.